BIPO Auditions for Violin Section
The Borusan Istanbul Philharmonic Orchestra (BIPO) will hold auditions for violin section to join the orchestra's reserve list and expand the musician pool. The audition for the 2022-2023 season will be held on Saturday, 4 February 2023 at Borusan Oto 9.55 Hall in Istinye between 10.30-17.00 for violin sections. Auditions will be held for all violin sections, those who are successful at these auditions will be qualified to attend the orchestra's reserve auditions.
There will be no piano accompaniment at the auditions.
The deadline for violin audition applications is Friday, 6 January 2023. Please note that late applications will not be evaluated.
Important Notice: Applicants are required to be not over 30 years old, have completed their undergraduate degree in the conservatory or equivalent school of their relevant instrument and living in Istanbul; a notary approved graduation certificate will be required for the application.
You can download the scores of the required pieces from here (crossed ones excluded)
Required Solo Violin Excerpts:
W.A. MOZART: (Please choose one of these concertos) Violin Concerto No.3, No.4 or No.5, 1st movement, (with cadenza to re-exposition)
J. S. BACH: Sonata for Violin in G minor, A minor or C Major (participants' choice, first movement)
Required Orchestra Excerpts:
R. STRAUSS: Don Juan (from beginning to 63rd measure)
S. PROKOFIEV: Symphony, no.1 "Classical", Finale (last movement) (from beginning to 42nd measure)
W.A. MOZART: Symphony, no.39, Finale (from beginning to 42nd measure)
F. MENDELSSOHN: A Midsummer Night's Dream
-    I.  From beginning to 40th measure
-    II. Scherzo-Vivace (from beginning to 100th measure)
J. BRAHMS: Symphony, no.1, 1st movement (from beginning to 30rd measure)
P. I. TCHAIKOVSKY: Symphony, no.5
-    I.  Andante Cantabile, 2nd movement, (measures 111-128)
-    II. Andante Cantabile, 2nd movement, (measures 140-159)
P. I. TCHAIKOVSKY: Serenade for Strings, Walzer, 2nd movement, (measures 65-134)
R. SCHUMANN: Symphony, no.2, Scherzo (from beginning to 56th measure)
S. PROKOFIEV: Romeo Juliet, Suite no.1, rehearsal number between 70-74
Applicants will prepare all the solo and orchestral excerpts mentioned.
Applicants are responsible for the whole excerpt unless measures are indicated.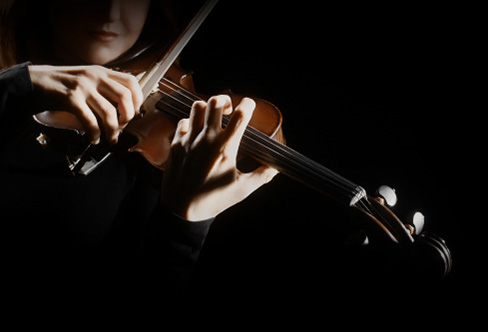 Audition Address
Borusan Oto, Istinye
Istinye Mahallesi, Sarıyer Caddesi No: 77
Sarıyer, Istanbul
Starting Time: 10.30


Click to download the application form
You can either file your application personally to Borusan Sanat (at the address above) or send in your filled form by e-mail to Sibil Arsenyan at sarsenyan[at]borusansanat[dot]com.
Borusan Sanat
Istiklal Cad. No: 160A
34433 Beyoglu, Istanbul
Important Notice: Requested that the bows and the written notes (G, D, A, E) written on the musical score are stitched to be played.
When your applications are received, you will be informed. If you do not receive this e-mail, please repeat your application.