WE-ARE-ON-AIR!
BORUSAN SANAT'S NEW ONLINE PLATFORM IS COMING SOON!
Borusan Sanat is entering the new year with its new online platform borusansanat.tv. In addition to Borusan İstanbul Philharmonic Orchestra and Borusan Quartet, brand new recordings of concerts at Borusan Music House await music lovers on borusansanat.tv. The first concert is on Sunday, January 3rd at 11.30!
In order to protect art, artists and music lovers, Borusan Sanat has shared this seasons concerts online, free of charge. To further support the development of and contribute to the accessibility of art, we are proud to announce that borusansanat.tv, through Motiwe's Cloudtivi platform, will soon be online. Concerts broadcast on the radio since the beginning of the season are presented on the online platform, this time with their video recordings.
Borusan Sanat thanks all the music lovers who showed great interest in live and recorded concerts broadcast on Borusan Classic this season. We believe in the power of radio, but we are also aware of the frustration of being away from concert halls... We are happy to be able to partially address this frustration with video recordings that have been filmed and will continue to be filmed during the broadcasts that will continue on radio.
In addition to delivering this seasons Borusan İstanbul Philharmonic Orchestra and Borusan Quartet concerts, concerts performed and prepared at Borusan Music House exclusively for this platform will also be featured on borusansanat.tv.
The concerts held at Borusan Oto İstinye 9.55 Hall and Borusan Music House were recorded with great care and attention to detail with a team of experts and prepared for publication for the online platform. All recordings will meet music lovers with high audio and video quality on the Microsoft Azure infrastructure. Thus, viewers will be able to easily access any concert, at any time, from anywhere through Microsoft cloud technologies.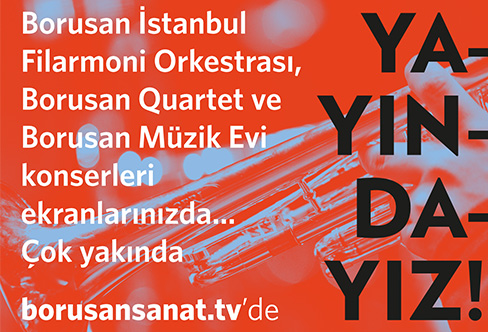 In addition to these concerts, which will be broadcast regularly every month presenting every visual and audial detail, music writer Serhan Bali and one of our young and successful conductors, Nisan Ak, will also hold pleasant pre-concert talks on borusansanat.tv.
The first concert recording airs Sunday, January 3rd at 11.30. At the concert, which was broadcast live from Borusan Klasik on October 15, BIPO performed a selection of the three great composers Mahler, Beethoven and Mozart, under the conduction of Sascha Goetzel. If you missed it on the radio or would like to watch the video this time, this concert will be available on borusansanat.tv.
Borusan Sanat will always be there for you during this challenging period with Borusan Klasik and now with broadcasts from borusansanat.tv...