Building
The headquarters of the Borusan Sanat, which also accommodates the Borusan Music House, was renovated with a view to creating the ideal harmony between history and technology. The historical six-storey building in the Istiklal Avenue, which is the main artery of Istanbul's culture and art life, was added to the architectural heritage of Beyoğlu after extensive renovation and thus Beyoğlu gained a new venue.
The six-storey building preserves its historic texture, while its interior features a multifunctional, flexible structure that a modern music and art venue should have. The ground floor, designed for exhibitions and other events, has a glass façade, allowing it to get in direct contact with the street. The concert hall, with the parterre on the second floor and the balcony on the third, has a capacity of 200 seats and 500 if standing. The wallcoverings, as well as the parquetry and concrete material, are acoustically designed and the building has perfect insulation that facilitates events, while the wide windows still maintain the connection with the street. The transparent elevator, which can also be seen from outside, is in striking harmony with the building and the steel material installed in the staircase punctuates the light. The building is sufficiently equipped with audio devices to meet the needs of a music and art venue.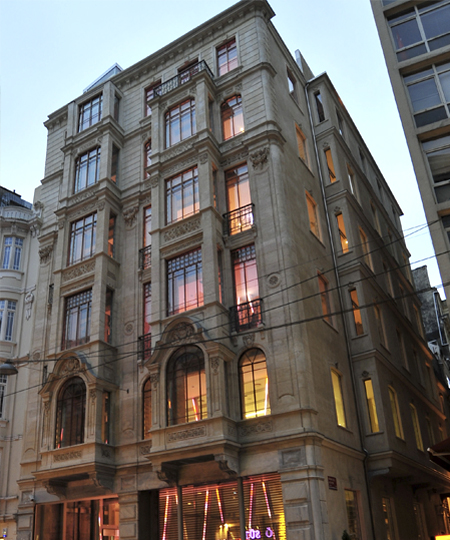 Borusan Sanat Binası
The offices of Borusan Sanat are on the first, fourth, and fifth floors of the building, whose another striking feature for spectators both inside and outside is the works of art it houses. Upon entering the building, the visitors are welcomed by Christian Partos' "E.L.O.", descending and ascending light bulbs, and Leo Villareal's 2008 "Untitled", LED tubes that illuminate the V-shaped columns.