Biography
The history of the Borusan Istanbul Philharmonic Orchestra (BIPO) starts with the Borusan Chamber Orchestra, one of the first ventures in the field of culture and the arts by Borusan Holding, a leading industrial conglomerate in Turkey. In time the chamber orchestra was transformed into one of the country's best symphonic ensembles under its former artistic director and principal conductor Gürer Aykal. Performing under its current artistic director and principal conductor Sascha Goetzel since 2009, today BIPO has become a prominent element of Istanbul's cultural scene.
Since its first season 2000/1 BIPO has regularly given concerts in Istanbul, was invited to Istanbul, Eskişehir, Ankara, Ruse Music Festivals and BBC Proms and appeared at special events at Megaron Hall, Athens and Palais de Bozar, Brussels. BIPO became the resident orchestra of the International Istanbul Music Festival in 2003. Since then, they have officially opened the festival every year with concerts at Hagia Eirene, also accompanying top soloists throughout the festival. Enjoying the privilege of giving world premieres of major Turkish and international works at the festival, BIPO is also the resident orchestra of the International Leyla Gencer Voice Competition.
The world-class soloists BIPO has accompanied to date include stellar names such as Renée Fleming, Lang Lang, Hilary Hahn, Elīna Garanča, Juan Diego Flórez, Angela Gheorghiu, Joseph Calleja, Maxim Vengerov, Roberto Alagna, Rudolf Buchbinder, Nicola Benedetti, Sarah Chang, Murray Perahia, Bryn Terfel, Isabelle Faust, Branford Marsalis, Martin Grubinger, Steven Isserlis, Viktoria Mullova, Natalie Clein, Katia & Marielle Labèque, Daniel Müller-Schott, Nadja Michael, Isabelle van Keulen, Julian Rachlin, Thomas Hampson, Sabine Meyer, Michel Camilo, Arcadi Volodos, Ayla Erduran, Hüseyin Sermet, İdil Biret, Fazıl Say and the Juilliard String Quartet.
With a strong commitment to fostering and advancing love and appreciation for classical music, BIPO has become the major constituent of a social responsibility project. Under the title of "Special Concert", BIPO has performed under the baton of a leading figure from the Turkish business and art scene, whose donations provided scholarships for young talents to study at prestigious institutions.
Since taking up the baton in 2009, Viennese conductor Sascha Goetzel contributed greatly to the orchestra's repertoire and its new aim to become one of the best symphonic ensembles of Europe. 2009–10 was a remarkable one when BIPO released its first international CD, Respighi, Hindemith, Schmitt under the Onyx label to international critical acclaim and the orchestra performed at the Opening Festivities of the 2010 Salzburg Festival. BIPO also received the Turkish music magazine Andante's "Best Orchestra of the Year" award in May 2010. Their second CD with Goetzel, Music from the Machine Age, was released in March 2012 again by Onyx. 2014 saw two major international achievements for the orchestra: BIPO had the privilege of being the first ensemble from Turkey to be invited to BBC Proms and performed at the concert titled "Oriental Promise" under Goetzel to critical acclaim. BIPO's third CD featuring works of Rimsky-Korsakov, Balakirev, Erkin and Ippolitov-Ivanov was also launched after the concert.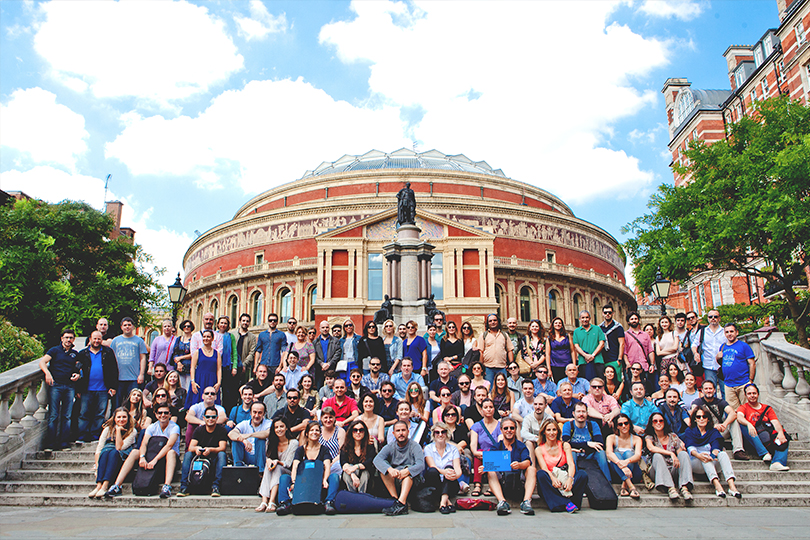 During the 2016/17 season BIPO performed two concerts as part of the Hong Kong Arts Festival in February 2016 and received very positive reviews. This season BIPO go on a tour covering Essen, Ljubljana, Vienna and Zurich with violinists Daniel Hope and Vadim Repin.
BIPO's stellar guests for the 2017/18 season will be Daniel Hope, Vadim Repin, Alexei Volodin, Andreas Ottensamer, Gábor Boldoczki, Nemanja Radulović, Elisabeth Kulman and Zee Zee.
For bios & photos please click.
Updated: September 2017
For more info:
Aydın Dorsay, Orchestra Manager
adorsay [at] borusansanat [dot] com