Patrick Hahn
Art Consultant & Principal Guest Conductor
Borusan Istanbul Philharmonic Orchestra
Conductor, composer and pianist Patrick Hahn has been attracting attention for his ability to lead symphonic, operatic and choral repertoires with poise, positioning himself as one of the most versatile young conductors. At just 24 years of age, he has been appointed as the General Music Director of the Wuppertaler Bühnen und Sinfonieorchester GmbH from the 2021/22 season, becoming the youngest GMD in Germany.
In the 2020/21 season, Patrick Hahn conducts subscription concerts with the Munich Philharmonic, Tonkünstler Orchestra and Klangforum Wien. In the winter he makes his debut with the Bavarian Radio Symphony Orchestra followed by his return to the Vienna Symphony Orchestra, with other notable dates including concerts with the Münchner Rundfunkorchester of the Bavarian Radio, NDR Radiophilharmonie and an extensive collaboration with the Borusan Istanbul Philharmonic Orchestra. In the summer Hahn makes his debut at the Salzburg Festival with a youth opera commissioned by the Festival and returns to the Bavarian State Opera in Munich for the premiere of a new work written for the company's Opera Studio.
In recent seasons Patrick Hahn has collaborated with orchestras and opera houses in Europe and Asia such as the Hamburg Symphony Orchestra, Gürzenich Orchestra Cologne, Dresden Philharmonic, NDR Radiophilharmonie Hannover, the Vienna, Lucerne and Düsseldorf Symphony orchestras, Camerata Royal Concertgebouw Orchestra, Orchestra Ensemble Kanazawa, Hamburg State Opera, Hungarian State Opera House and the Tyrolean Festival Erl, among others. In close collaboration with Kirill Petrenko, he led rehearsals of the new productions of Salome and Die Tote Stadt at the Bavarian State Opera and Fidelio with Berlin Philharmonic at the Easter Festival Baden-Baden.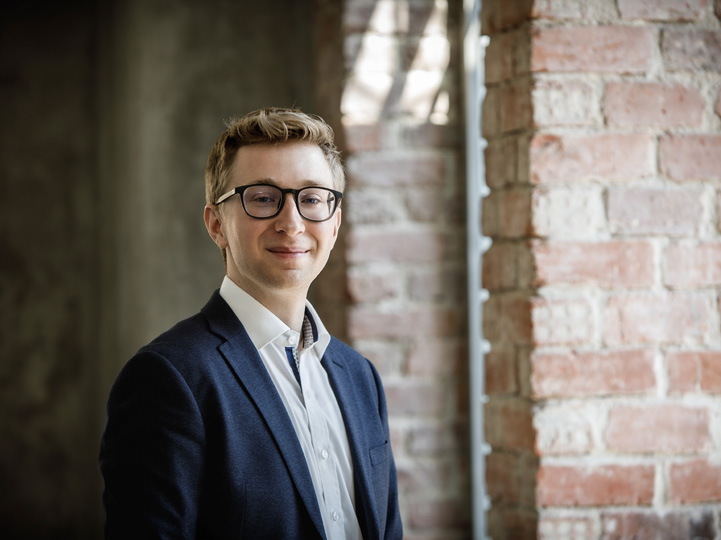 Coming from a boys' choir background, Patrick Hahn has a natural affinity with choral works. In 2019 he was invited to conduct the Christmas concert of the Chor des Bayerischen Rundfunks, an event that was broadcasted live in over 20 countries within Europe. For this special concert he was commissioned to compose a piece called Ballad of Christmas Ghosts, set on a text by Scottish poet Andrew Lang.
As a classical pianist, Hahn has appeared with the Mozarteum Orchestra Salzburg and as a Lied accompanist at the Musikverein in Vienna. Aside from his work in classical music, he accompanies himself on the piano singing cabaret-songs by the Austrian satirist and composer Georg Kreisler. As a jazz pianist, he received awards from the Chicago Jazz Festival and the 'Outstanding Soloist Award' from the University of Wisconsin-La Crosse as the best jazz pianist of the 37th Annual Jazz Festival.
Patrick Hahn was a Conducting Fellow at the 2016 Aspen Music Festival and attended the Tanglewood Music Center in 2017. A documentary made about his emerging conducting career will broadcast in 2020 on ORF TV and 3sat channel.